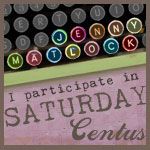 This weeks Saturday Centus promt is "April showers bring May flowers. 100 words or less not including the prompt. I haven't read any of the other entries, I'm waiting until mine is done. Hope it stacks up.
The Golden Ticket
We were in love, a couple of small town kids with no future. We knew that we would never get out of this town if he didn't enlist.
Boot camp
was hard, he was gone for what seemed like forever as I planned our wedding. We were married, and he was deployed two weeks later.

April 2nd, I heard "the knock". Pregnant, and widowed, my love, my life, my ticket out of the hole we were both born into, was gone. Honor was born

May 5th

, a healthy baby girl, her daddy would have been so proud. Proof that April showers bring May flowers